Product Appearance
Parts.
Parts

1

LCD Panel

2

Touch TP

3

Power Button

4

IR Receiver

5

Light Sensor

6

MIC

7

Proximity Sensor

8

Power Port & Switch

9

Stylus Pen box

10

Speakers

11

Rear Port 1

12

Rear Port 2

13

Computer Port (OPS)
Rear Ports.
Warning! The voltage/current of the rear power output port is 5 V/2 A (maximum). Purchase the power code/AC adapter according to customer needs. Please do not connect any products with different power requirement. Otherwise it may cause the damage to products or fire.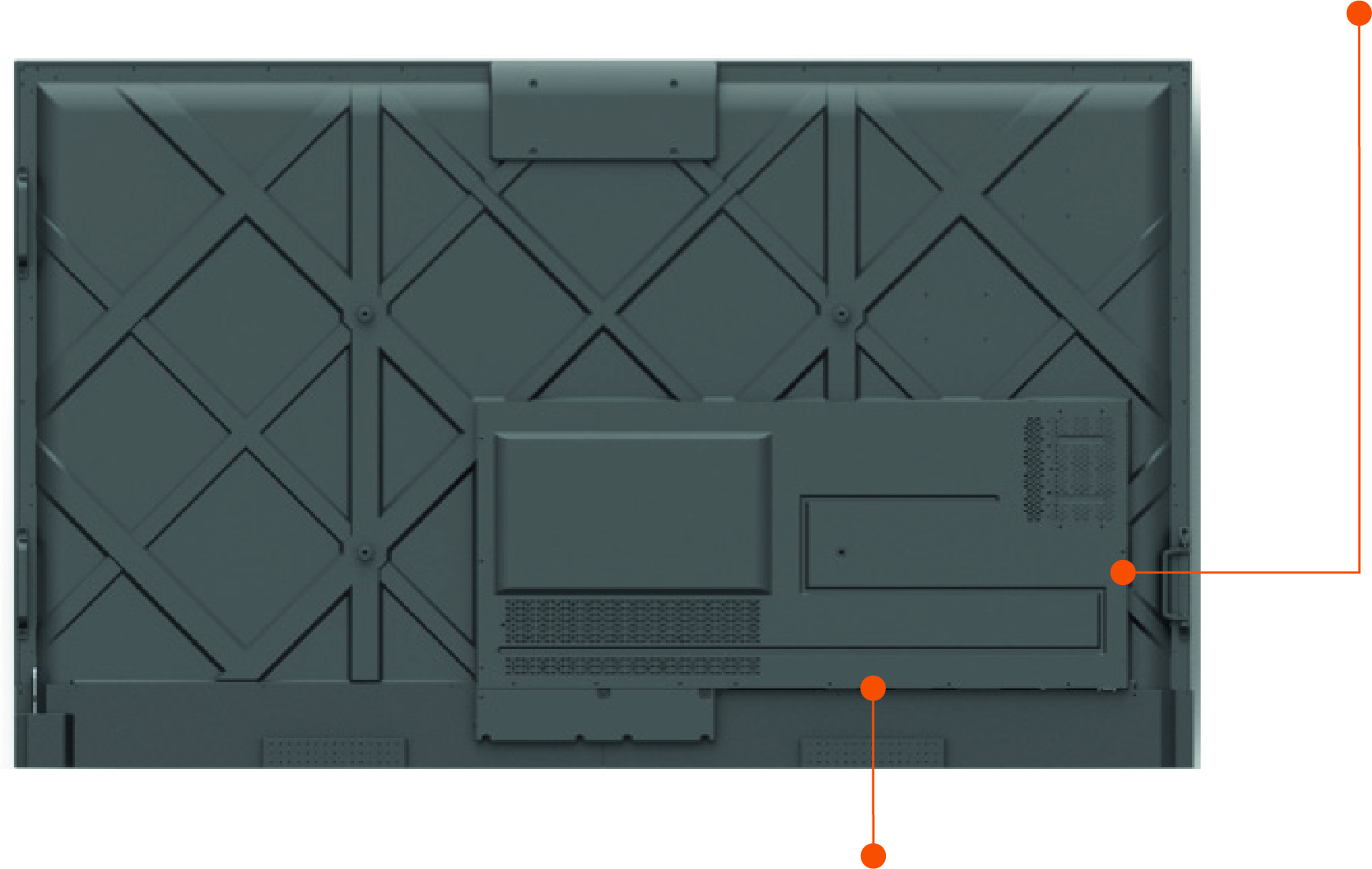 | | |
| --- | --- |
| Port | Function |
| MIC IN | Microphone input port. |
| HDMI 1 | HD signal input port 1. Use with "USB Touch",to achieve the touch mode of PC operation. |
| HDMI 2 | HD signal input port 2. Use with "USB Touch",to achieve the touch mode of PC operation. |
| HDMI 3 | HD signal input port 3. Use with "USB Touch",to achieve the touch mode of PC operation. |
| USB Touch | Connect to the PC's touch port. |
| Type C | Connect to devices with Type C interface, such as USB flash drive, MAC, PC, or mobile phone with OTG function. Output up to 45W power source. Supports data, audio, video, and power charging. |
| USB3.0 | System upgrade, local play. |
| Audio Out | Connect the audio output device. Such as headphones, speakers or other equipment. |
| Android USB | Connect the USB device. Such as mobile hard disk, U disk, USB keyboard, mouse. When the display screen is on android, the device on USB is used by android. When switching to OPS channel, the USB device is connected to OPS. |
| HDMI Out | Connect electronic video device with HDMI input. |
| LAN IN | Connect to the router. |
| LAN out | Connect to the RJ45 Port |
| RS232 | Serial port signal input interface. |

Remote control.
To avoid probable faults, please read the following instructions and use the remote controller properly:
Do not drop or beat the remote controller.

Do not spill water or other liquid on the remote controller.

Do not put the remote controller on wet items.

Do not expose the remote controller under sunlight or put it near overheated source.
Button

Function

Power on/off.

PC

Switch to the internal PC source.

Mute or unmute.

Freeze the Current Screen

Click Again to Exit Freeze Function

Up/Down/Left/Right selection button.

OK

Confirm button.

Return to Previous/Exit

Return to homepage

Take a screenshot.

Decrease the volume

Increase the volume

Enter the Settings application

+

Increase the brightness

-

Decrease the brightness

Press to enter the i3NOTES whiteboard application

Toggle Display Backlight Mode

HDMI 1/2/3

Switch to HDMI 1/2/3 video signal source

USB-C

Switch to USB-C video signal source
Range of Remote control.
Use the remote control within a range of about 5 meters in front of the remote control receiver of this
product and about 30 degrees on both sides.