Using the PIN lock screen
This functionality only works on i3TOUCH displays of the following product ranges:
This feature requires Android xx and the i3RDM apk v (version TBD)
Setting the PIN lock screen on the i3TOUCH display

Open the Quick Settings menu in the launcher. This can be opened by opening the left or right menu and selecting the cogwheel in the top right corner. If this is not available to you, than the i3TOUCH display is in restricted mode and you'll have to set this in i3RDM.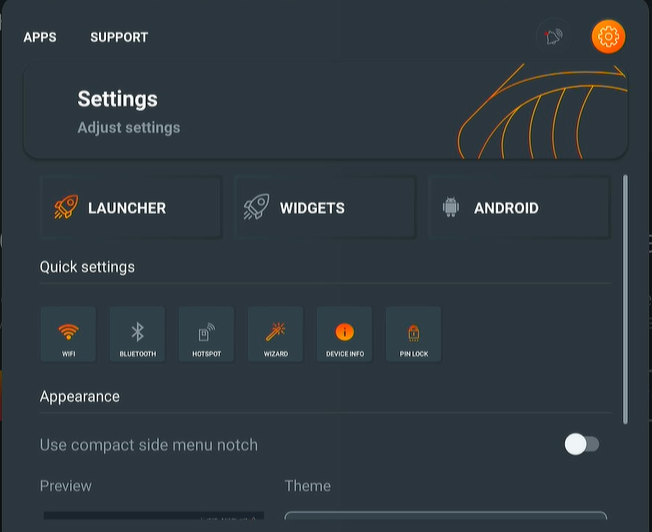 In the Quick Settings menu, locate the PIN lock button and long press it. A dialog will pop up where you can set or update the PIN code. If no PIN is set, you'll be able to set it and confirm. If a previous PIN code has been set before, you'll be required to first enter the previous PIN code before you can enter a new one. If you select 'Remove PIN code', no PIN lock will be used. Use only a numeric value of between 4 and 8 numbers if you'd like to set the PIN code.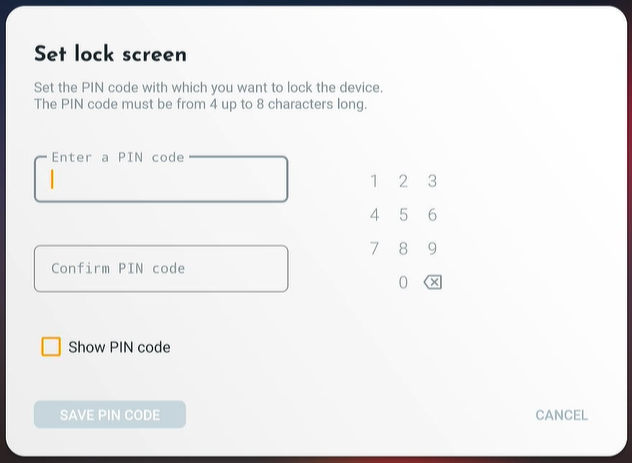 Setting the PIN lock screen in i3RDM
Using our remote management software i3RDM, you have more control over how to use the PIN lock screen.
To set the PIN lock screen remotely using i3RDM, see Locking and unlocking an i3TOUCH display for Android 8 and above
Locking the i3TOUCH display
From the left or right menu select "Lock screen" to lock the i3TOUCH display:
You can also lock the i3TOUCH display from the Quick Settings. From the left or right menu, select the cogwheel. This loads the Quick settings. Locate the PIN lock screen and tap it to select. This will also lock the screen.
If it doesn't lock, but instead you see a message that says "There is no lock screen password", you will need to set the PIN lock first. See Setting the PIN lock
Unlocking the i3TOUCH display
Tap on the i3TOUCH display if it is not active. If active, it will show a dialog where you can discreetly enter the PIN code. The value will not be shown on the display for security reasons.
User profiles and locking the screen
Locking the i3TOUCH display is no longer needed with User Profiles enabled. Your users can log out of their session to protect their data. Guests may be required to enter an PIN code to load the Guest profile. For more information, see Using i3STUDIO with User profiles