Below you can find all information needed for familiarizing yourself with the basic functionalities of your i3TOUCH display. Want to dive deeper? Have a look at the "Personalization" and "Advanced Features" sections.
Home Interface
Out of the box, i3STUDIO comes with two standard interfaces, an interface optimized for usage in corporate environments and another optimized for education environments. You can choose your preferred interface at first boot or through the setup wizard.

The Homescreen is equipped with widgets that will assist you in quickly reaching the most frequently used applications.
Corporate interface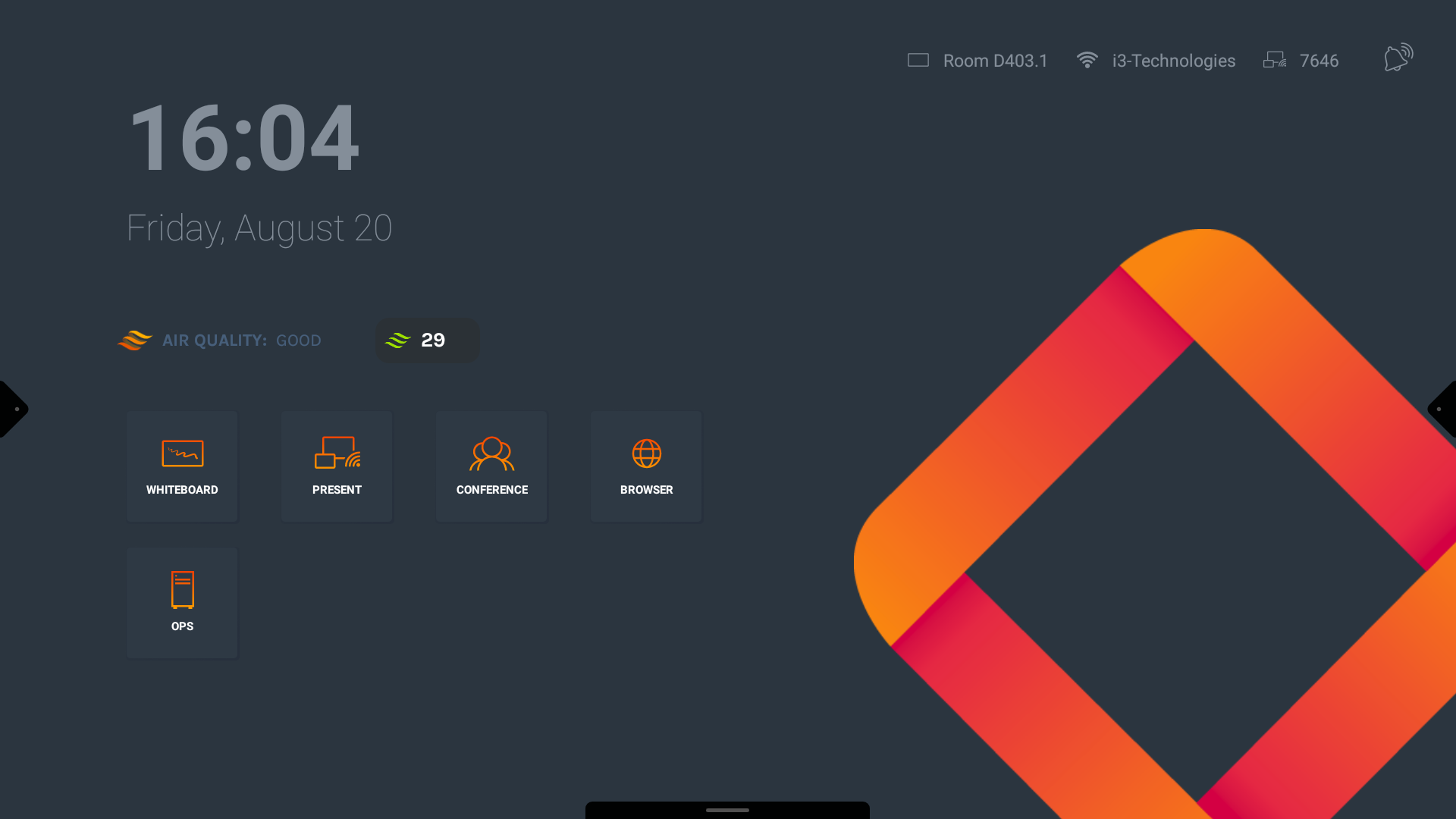 Education interface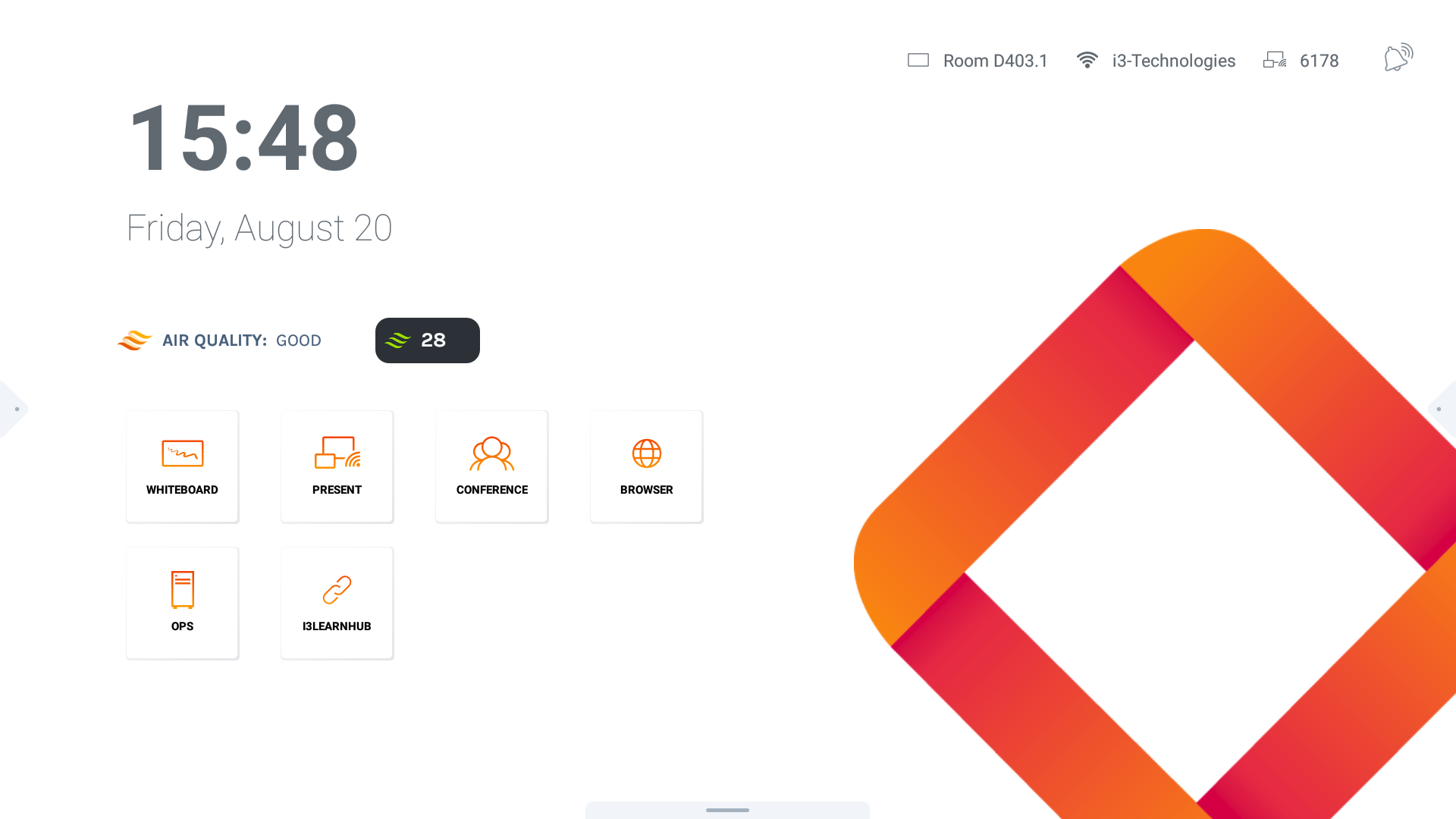 Widgets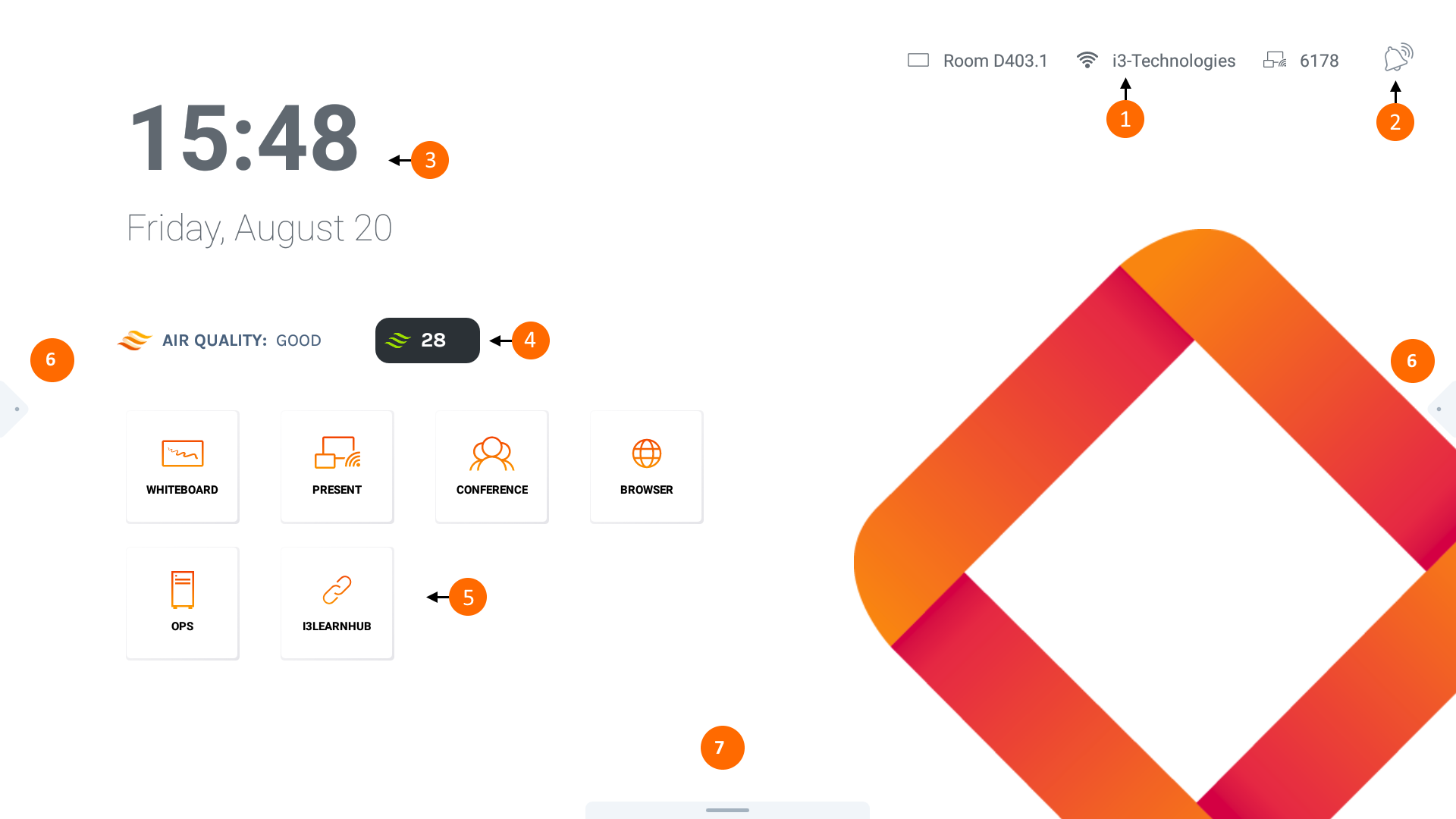 i3ALLSYNC Details: no need to open any other app to connect to your display!

Notifications: will indicate if there are new notifications that require your attention.

Clock widget: so you don't lose track of time.

i3CAIR widget: indicates the air quality in case an i3CAIR sensor box is connected to your i3TOUCH.

Widget tiles: Launch your favorite application with one touch.

Side menus: Easy access to navigation control and applications.

Bottom menu: Access all apps, notifications, and settings to customize your display.
---
Navigating
There are two main ways of navigating your i3TOUCH panel:
Remote control
The remote control is an easy way of navigating your i3TOUCH with easy access to the direct Back and Home actions.
Several i3TOUCH remote controls offer an even wider range of functions, in order to discover the full capabilities, we kindly ask you to review the documentation of your specific device.
Side menus
The side menus offer easy access to the controls of the panel from any location.
You can click a side menu open from the left and the right side to quickly navigate back, home or to a specific app available through the menu.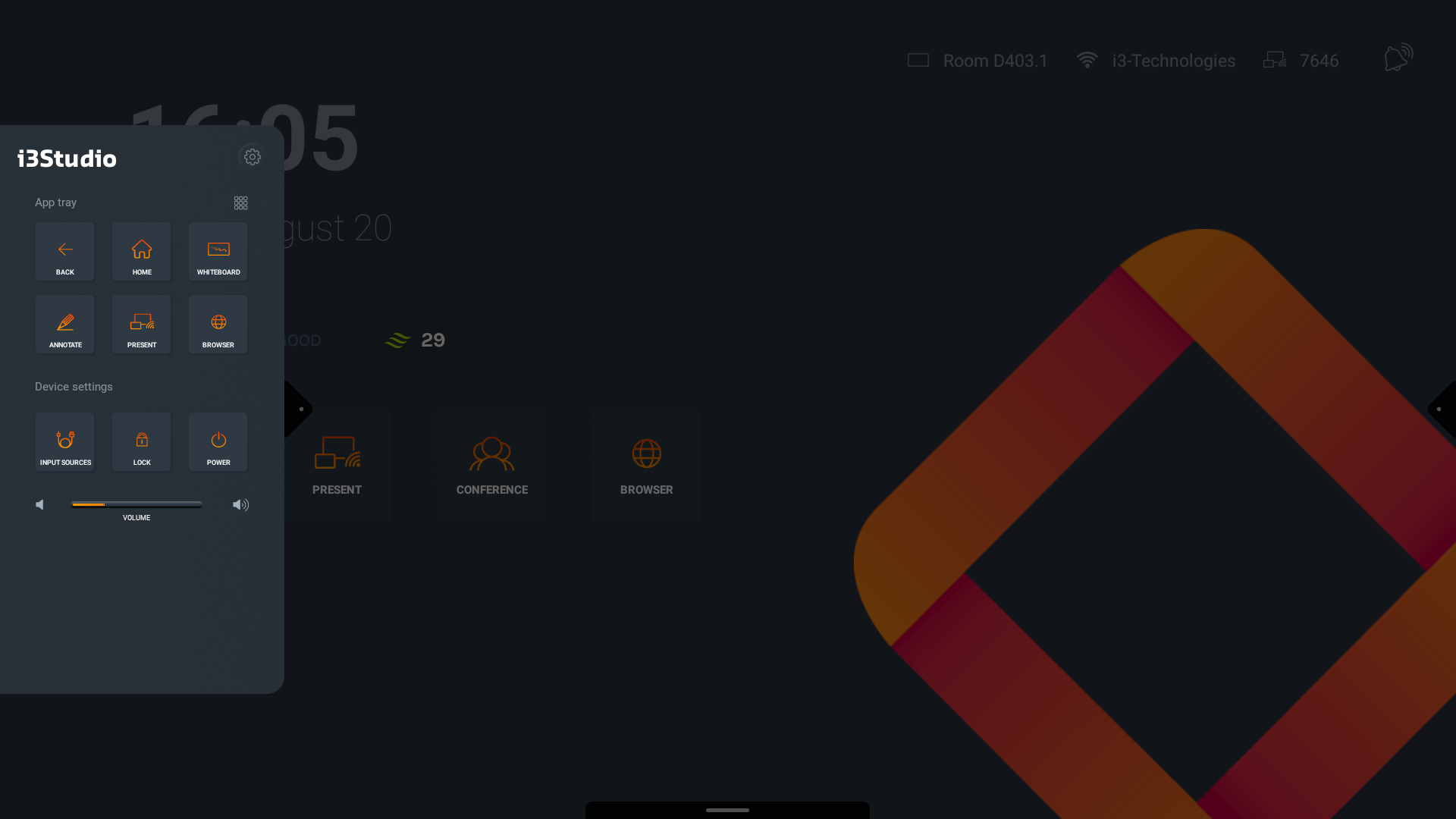 The side menu offers quick access to the most frequently used applications, gaining you time and resulting in a smooth and fluent experience.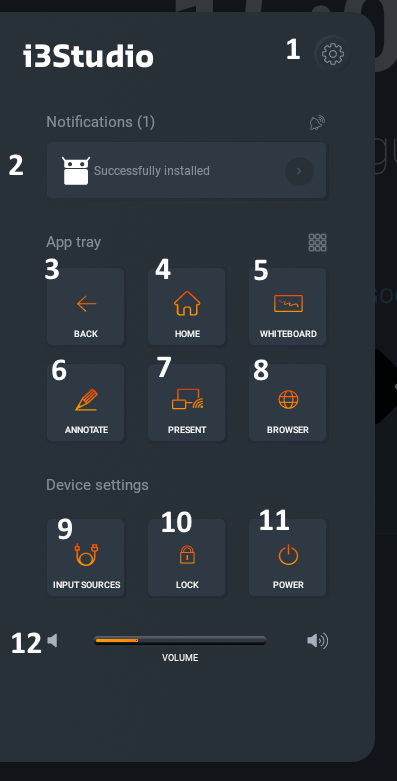 Access the settings menu

Stay up-to-date with all notifications

Back-action

Navigate to the home screen

Open whiteboard

Start annotating on top of your current screen

Present through i3ALLYSNC

Open the browser

Select a different input source for the i3TOUCH

Lock the screen of the i3TOUCH (passcode)

Power down or put the screen in standby mode

Change the volume or toggle mute by clicking the left speaker icon
---
Presenting
Streaming content to the i3TOUCH display over Wi-Fi can be achieved by a push-of-a-button.

Open Wi-Fi streaming by pressing the "Present" button on the Homescreen (1) or from either bottom- or side menu. (see image below)
Whether you are a Windows, Mac, or Android user, i3ALLSYNC easily synchronizes your content to your i3TOUCH display.

Is there no Wi-Fi network available? No problem! Your i3TOUCH can be configured as a hotspot!
More information and downloads can be found on the i3-Technologies website under Wireless presenting
Once familiar with setting up a connection, you can connect quickly to your display by using the on-screen information provided by the i3ALLSYNC widget. (2)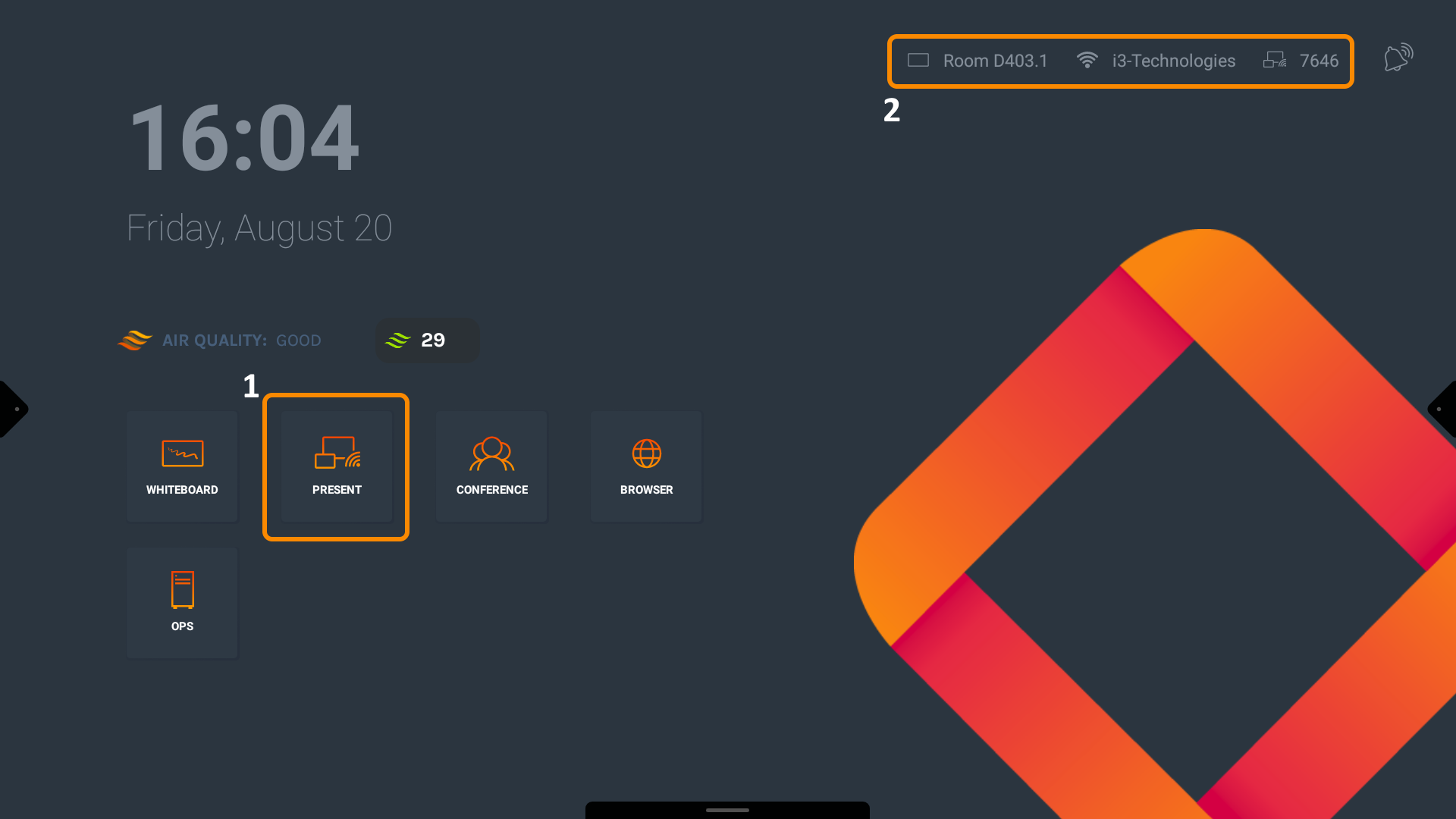 In case your computer or device doesn't support i3ALLSYNC, traditional input sources such as HDMI, USB-C, VGA, etc. are also available through the side menu by clicking "input sources".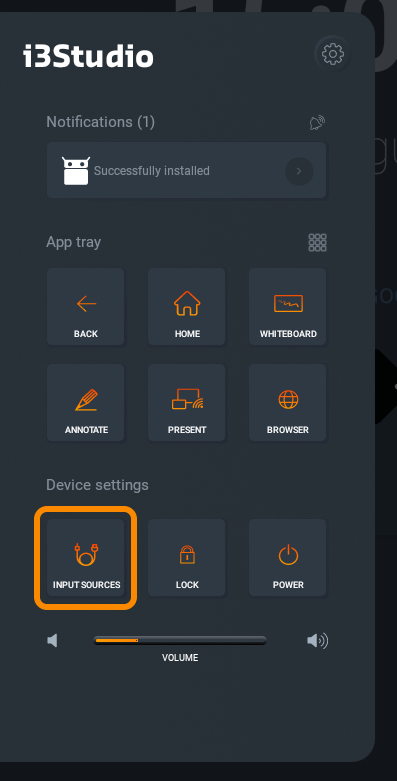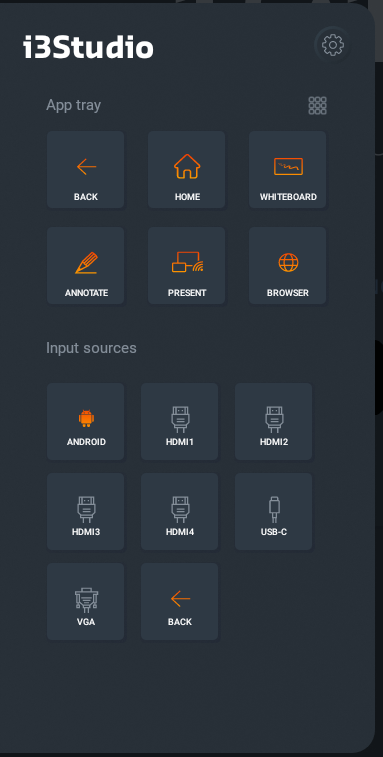 ---
At any moment you can make annotations on your display, save these annotations and share them. Making sure no valuable information is lost while interacting with your audience.
To start annotating, simply click the annotate icon from the side menu and use the touch interface to add information to the screen.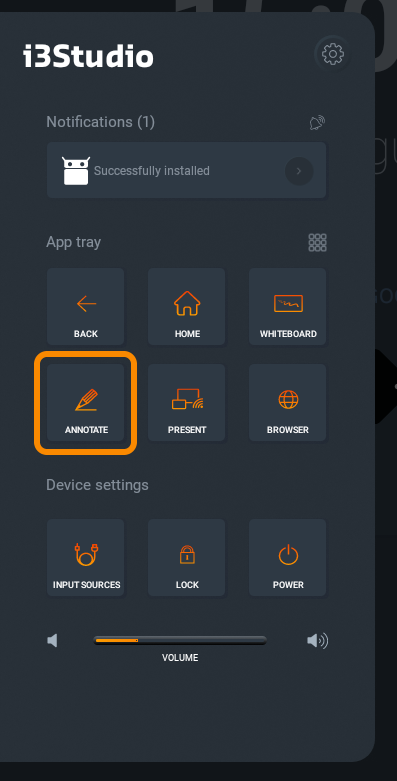 Below you can find an example of an annotated screen.
The screen and annotation (orange) can be saved into Whiteboard by using the camera icon. (red square)
You can capture multiple screenshots and continue to edit them later in Whiteboard. (see further)
---
Whiteboard
One of the perks of an interactive touchscreen is the ability to express your ideas the way you want!
With our Whiteboard app, you are free to use the canvas exactly how you want and easily share your creations.
Sharing your whiteboard content has never been easier thanks to the options available for exporting.

By simply clicking the share icon and the "generate QR" button, your boards will automatically be converted to a pdf file, uploaded, and made available through a weblink, conveniently encoded as a QR code.
Scanning the code will automatically redirect any device to the generated pdf file.
For more detailed information and further exploration of annotating and whiteboard,
please refer to the i3WHITEBOARD user manual.
---
Conference
Out of the box, your i3TOUCH display comes pre-installed with the Zoom conferencing application.
In combination with one of the i3CAMERAs this opens up a world of interactive collaboration.
Share your meeting or lecture with colleagues or students anywhere in the world as if they were present in the same space.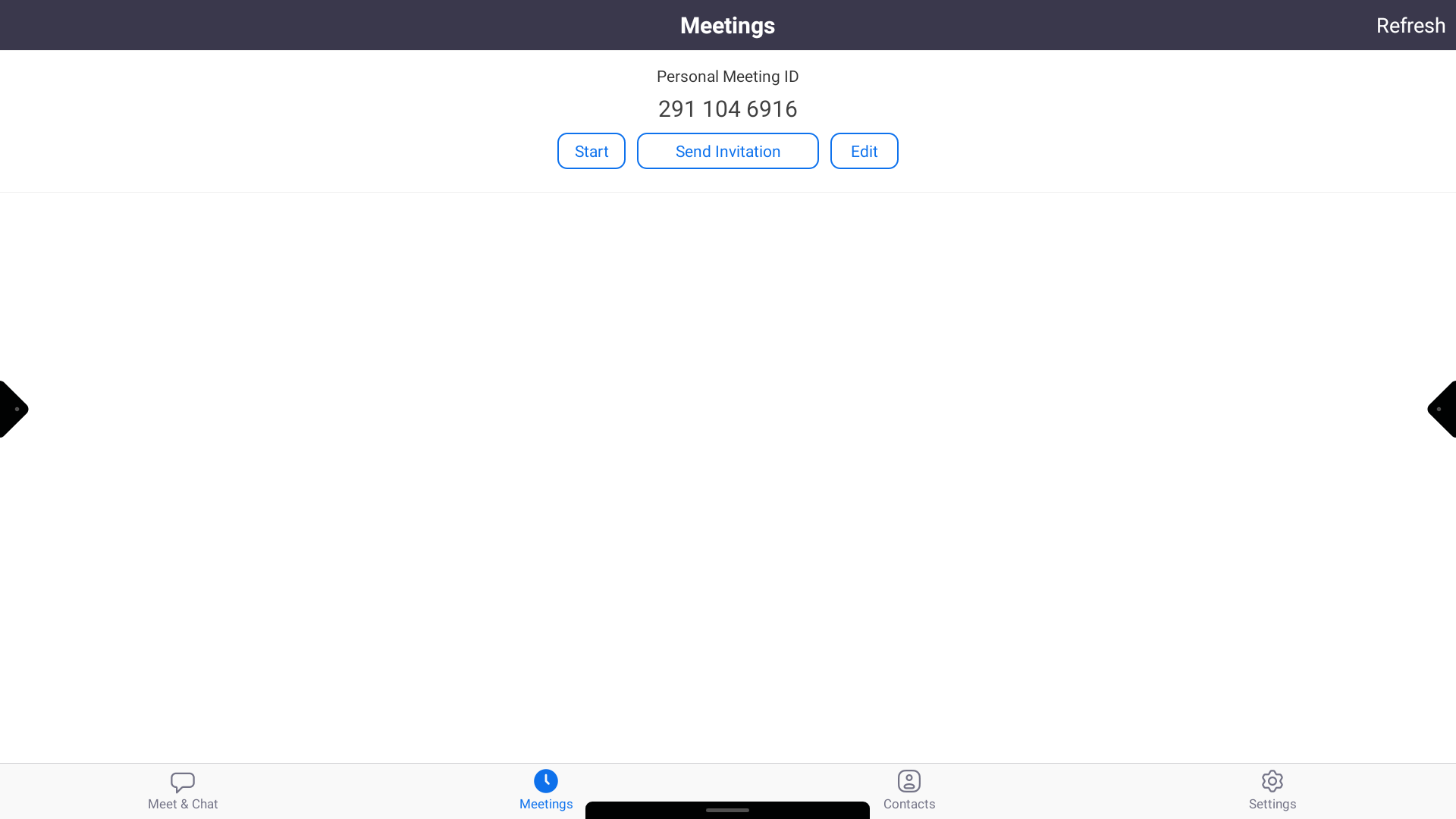 ---
Browsing
For browsing the web, i3STUDIO provides the Google Chrome application.
Just click on the browser icon on the home screen or in any of the menus to open Chrome.
Usage instructions for the Google Chrome browser can be found at https://support.google.com/chrome .

The display has a limited amount of free memory, in order to keep your display performant please refrain from opening an excessive amount of tabs in Chrome.